For most of us, when we gamble, we do so with one end goal in mind – to win. And if you're going to win, why not win big?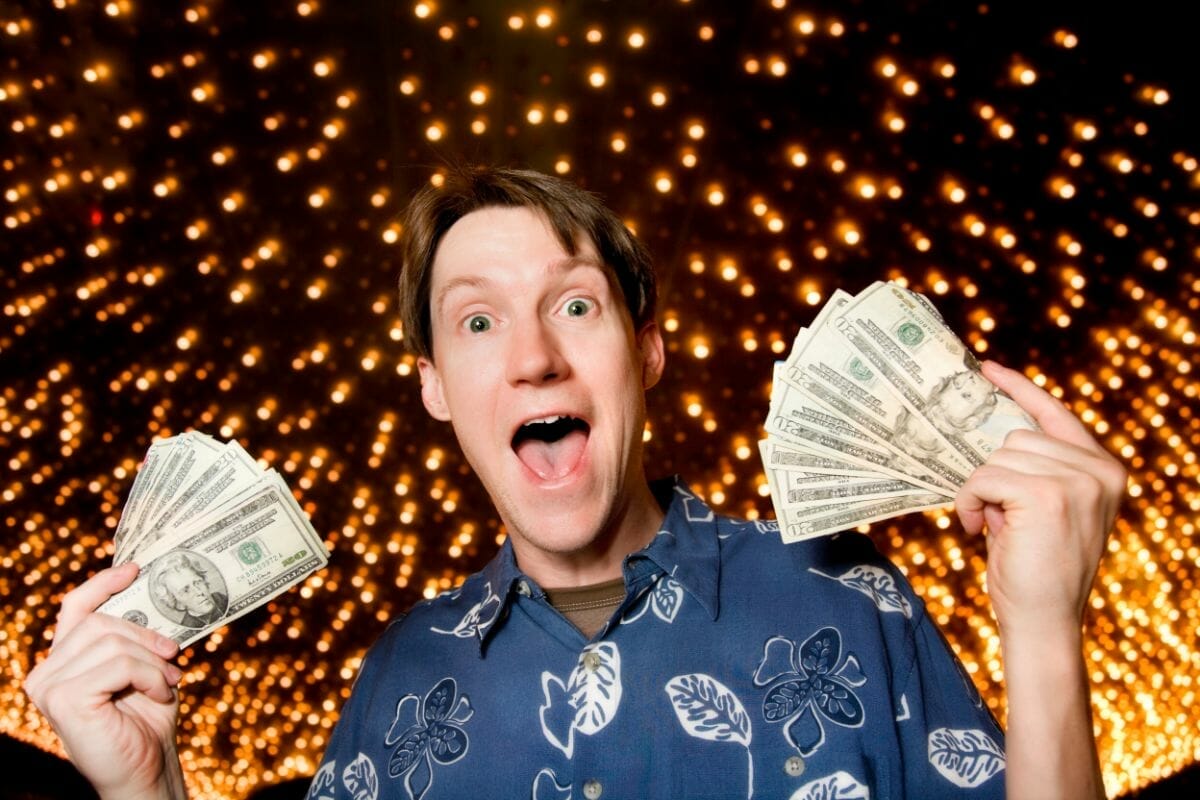 Every time you play on a slot machine, you're in with a chance of winning big. Jackpots vary with each machine, but sometimes, you could be playing for a jackpot that's up in the millions!
You're not alone if you've always fancied yourself as a big winner. Most of us dream of winning big and never make it. But what if there was a way to overcome the odds and bag that jackpot?
In this article, we're not going to guarantee a jackpot win every time you hit the slot machines, but we WILL share some tips and tricks that can help improve your odds and bring you one step closer to winning that jackpot (see also "Do Slots Hit In The Morning?").
How Big Are Slot Machine Jackpots?
Jackpots can be anywhere from a few hundred dollars, to a few thousand, to a million.
The jackpot is the largest possible prize you can win on a slot machine, and it's usually significantly larger than the other small cash prizes you'll be in with a chance of winning (see also "What Triggers A Jackpot On A Slot Machine?").
The exact jackpot will vary from machine to machine, but some jackpots can be EXTREMELY high.
If you're playing for a progressive jackpot, for example, the jackpot keeps climbing with each bet placed, and it doesn't stop until it's won. This can easily push your potential jackpot right up into the millions.
Can You Win A Jackpot On Slot Machines?
Yes! Whenever you play on a slot machine, you'll be in with a chance of winning the big jackpot.
We'll be honest – you'll probably have a much higher chance of winning a smaller prize (or not winning at all), but jackpots are there to be won, and you have to be in it to win it.
However, compared to other gambling methods, slot machines have some of the worst odds of winning big (see also "Best Slot Machine Odds"). Odds can range from one in five thousand to one in thirty-four million for the top prize, even when you use the maximum coin play.
Don't be deterred by the odds, though. You can also start playing a slot machine with some of the lowest bets in the industry – some machines take as little as just a few cents or pence to get started, and you need no prior gambling knowledge to operate a slot machine (see also "How Much Do Slot Machines Cost To Play?").
This is what makes them so popular, and it's just one reason why your odds of winning are so low compared to other methods.
How To Hit The Jackpot On Slot Machines
Now, it's time for the million-dollar question… how can you hit the jackpot on slot machines?
Well, if you're looking for a foolproof guide that's going to give you a winning formula you can use every time, turn away now. We're promising no such thing, and you're not going to find it anywhere else, either.
If we figured out a way to outsmart the slot machines and win the highest jackpot every time (see also "How To Win On Slot Machines"), we'd be putting a whole industry out of business!
It's an impossible feat, but with these tips and tricks, you CAN improve your odds of winning big, and stand a much better chance of walking out of the casino a jackpot winner.
1. Choose A Slot Wisely
Your first order of business should be to choose a slot wisely. All slot machines are built differently – they'll look physically different with different themes, different features and symbols, and different payout rates (see also "Best Themed Slot Machines").
If you really want to increase your chances of winning, you'll have better luck choosing a slot game with a higher Return to Player (RTP) rate.
You can find this percentage on an online casino before you start playing a game, and it'll automatically boost your chances of winning.
2. Practice
Although each slot machine works differently, it's definitely worth trying with a free game before you start putting real money into the machines (see also "How Much Is A Credit Worth On A Slot Machine?"). Free games are a fun way to get to know the game and how it works – you can choose to play slots with bonus rounds and improve your skills, and this can help set you up for success when you start playing with real money.
3. Determine Volatility, And Choose Carefully
To improve your odds, you'll also need to assess the volatility of the game. Volatility is just another word for risk level, and you can find out more information about the volatility of a slot game from the online provider, or casino you're playing in.
A low-volatility game will have higher odds of winning and less risk. However, these machines usually offer much smaller wins. On the other hand, high volatility slots have smaller odds, but pay out more.
If you're going to play a high-volatility game, you'll need to be prepared to invest more money into the game, and you'll see fewer smaller wins than you would with a low-volatility slot. Choose the game that feels right for you.
4. Place Higher Bets
To win big, you'll probably need to place higher bets. Smaller bets often don't unlock features like bonus rounds, which automatically improve your chances of winning.
If you want to improve your chances of winning, you'll need bets on every pay line, so be prepared to bet MUCH more than just a penny.
Top wins are almost always connected to maximum bets, so yes, your bet can determine how much you win! Remember though, larger bets come with a bigger risk, so only bet what you can afford to lose. If you can't afford to bet big, walk away.
The Bottom Line
While there's no guaranteed strategy to help you walk away from your slot game a millionaire, these simple tips and tricks can definitely improve your odds, and give you a much higher chance of winning big.
Securing a big win on the slots is never easy, but with the right advice under your belt, you can enter the game with the odds in your favor.