If you think you know everything you could possibly know about poker, think again. Not only are there variations in the table games, but there are also variations to the poker games you can play on slot machines!
That's right! Video poker is a very popular slot machine poker game that also requires the technical thinking skills of a tabletop poker game (see also "Best Payout Video Poker Machines"). But, did you know that multi-hand video poker machines exist (see also "Can You Win On Video Poker Machines?")? These take playing poker to a whole new level!
In this article, we will discuss all you need to know about multi-hand poker machines, including what they are, and more! So, if you're interested, then read on!
What Is A Multihand Video Poker Machine?
A multi-hand video poker machine is a slot machine that allows casino patrons to play multi-hand video poker.
But what exactly is multi-hand poker?
Well, when video poker came to casinos in the 1970s, it was a very simple draw poker game in which players had just one hand in every round. Since then, the game has evolved and changed, and there are many different variants. Multi-hand poker is one of those variants.
With multi-hand poker, patrons have the ability to play more than one hand per round. However, this does not mean that there is more of a chance of winning a multi-hand poker game.
The RTP of the slot machine will remain the same, no matter how many hands a player can play. 
How Exactly Does Multihand Poker Work?
At the start of a multi-hand poker round, you will be granted the opportunity to change the following:
The speed of the game
The number of hands
The number of coins you can have in a hand (between one and five)
Of course, you are permitted to change the number of coins you play in many ordinary video poker games, but it is best to play five if you want the biggest payout.
When it comes to multi-hand poker games, you will be able to view one of your hands, but the others will be face-down. From here, you can decide what cards to keep and what cards to remove from your face-up hand.
As soon as you click "draw" on the machine, all of your hands will flip over and you will be paid for any winning hand that you have.
The purpose of multi-hand poker is to increase the anticipation of poker games and the thrills patrons get while playing.
Are There Any Variations To Multihand Poker?
Yes, multi-hand poker does indeed have variations! The most common variation is "triple play", which is when players are permitted three hands in a round.
However, another popular variation is "five play", and as the name suggests, players are permitted to use five hands per round!
And, there are even multi-hand video poker games that permit patrons to play as many as 100 hands at the same time! How about a royal flush, or ten?
It is also a good idea to think tactically when playing multi-hand poker. For example, if you are playing a multi-hand poker game with 100 hands per round, think of it as 100 separate bets.
So, if you placed five coins on each hand, then what you have actually done is placed $125 worth of bets in that one round. 
What Are The Advantages Of Playing Mutlihand Video Poker?
Here are some of the advantages of playing multi-hand poker!
More Action In The Game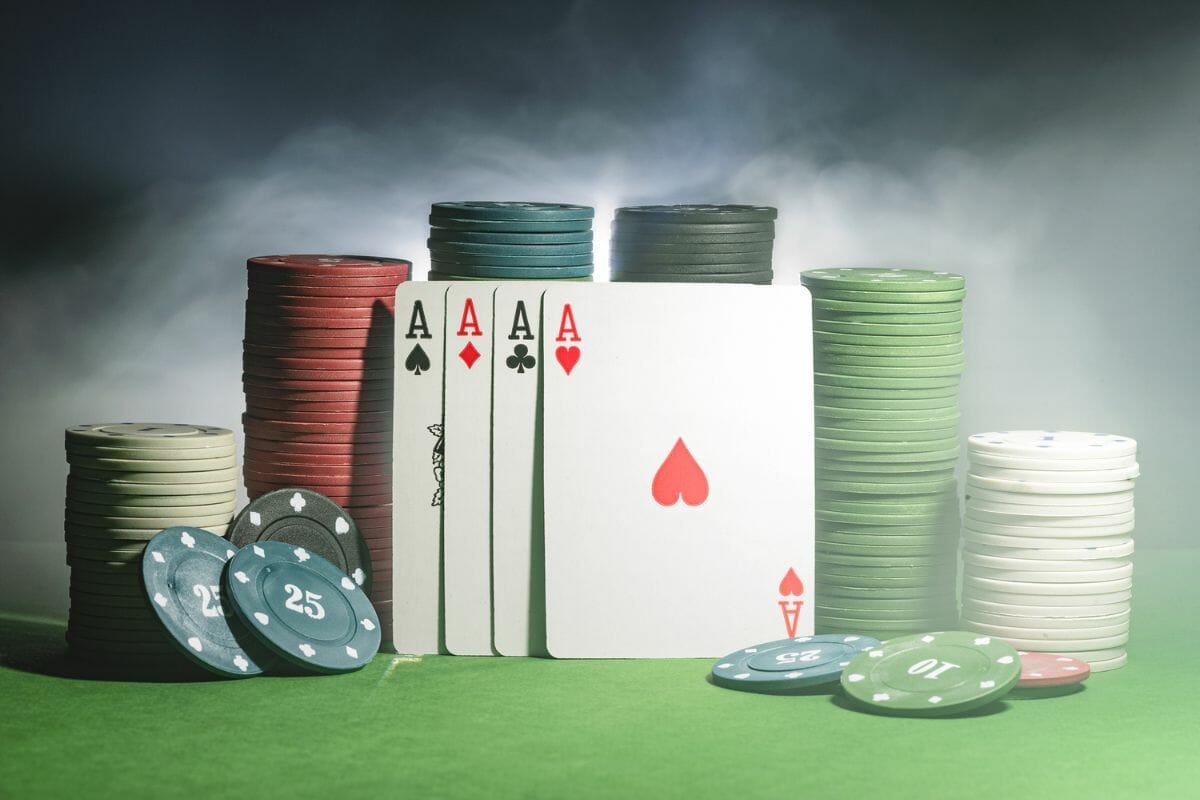 Sometimes, ordinary games of video poker can get slightly tedious, especially when waiting for other players. However, there is more tension when playing poker with multiple hands, and more tension equals more thrills and entertainment.
More Chance At Making A Royal Flush
In ordinary poker games, the chances of you drawing a royal flush are 1 in 40,000. Those are some pretty low odds.
However, in a multi-hand poker game, you have a much higher chance of drawing one! For example, let's say you are playing a five-play poker game with 700 hands played every hour.
This will give you the chance of getting at least one royal flush if you play for 11.5 hours! 
So, while your chances are still low, the opportunity has increased, and this makes the game much more fun!
An Increased Chance For Extra Rewards
Multi-hand poker offers players the opportunity to earn more loyalty rewards. So, if you're a patron who loves comps, this is the game for you!
Here are some examples of rewards you can earn while playing a 1–hand game of video poker:
Logging 500 rounds an hour
Playing all 100 hands
The comp rate of video poker in casinos is 0.1%
You can bet $1.25 per hand
All of this, 500x100x0.001×1.25 is equal to $62.50 in comps every hour!
What Are The Disadvantages Of Playing Mutlihand Video Poker?
Here are some of the disadvantages of playing multi-hand video poker!
Empties Your Bankroll
When playing multi-hand video poker, your bank account will drain a lot faster. This is because almost all variations of the game are negative-expectation games. After all, when you play more hands per round, you experience more losses theoretically.
So, while there is the chance that you win a huge profit through all of the hands you can play, you also need to note that it is more likely that you will lose more money than you would by playing a single-hand video poker game.
Difficult To Assess Your Results
At first, multi-hand poker games can seem extremely overwhelming. They feature many face-down hands that flip over quickly, and due to the fast-paced nature of the game, there is more of a chance you miss some great hands.
This can make the game confusing, especially if you are new.
Final Thoughts
A multi-hand video poker machine is a slot machine that allows you to play poker games that feature multiple hands per round (see also "What Is A Progressive Video Poker Machine?").
There are many variations of multi-hand video poker, and if you are experienced at single-hand video poker, then this is the next game to try!